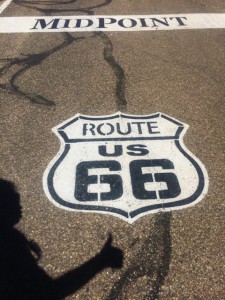 Route 66 is one of America's most iconic and well-traveled routes, in fact, some would say it is pure Americana; the most modern example of the pioneer spirit since the wagon train navigated the prairie lands. This was the story for my grandparents as they loaded my great-grandmother, my mother, her brother and the family dog in their new 'fast and sporty' ready for California 1962 Mercury Comet pulling a trailer. National Lampoon's Griswold family experience underway, (sans Grandma being tied to the roof) they left Michigan headed for the pungent smelling orange grooves and warm sunshine of Southern California. It's hard not to feel nostalgic when traveling this route no matter what story of past you relate to…
Making its way across America, Route 66 intertwines with modern interstates and highways becoming I-40. I'd recommend staying true to your adventure by taking a step back in time following the old Historic Route 66 signs breaking free of the Interstate when possible.
Then again, I avoid Interstate travel whenever possible. For those riders who have an appreciation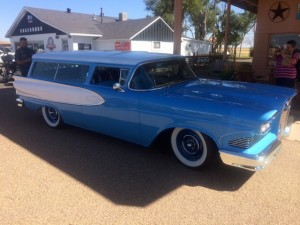 for classic vehicles and off-the-wall stops like the world-renown Cadillac Ranch in Amarillo, TX, it's the only way of doing it. In all fairness I must warn you. If you have a passion for vintage vehicles like you do your motorcycle, you maybe in trouble.
Some of you know my Copper Queen is a custom build Harley tribute to my love of vintage Caddy, so Cadillac Ranch was a no brainer stop for me. What you may not know is I have always wanted a fixer upper vintage pick up to tinker on. Well, I found her along the way, I managed to fall in love at first sound (had an amazing potato, potato rumble about her) with a 1963 Ford Classic Cab Pick Up Truck in historic Bernalillo, New Mexico (a must stop on the route) and I immediately had her shipped home to love on…but that's another story. Again, you've been officially warned, you WILL be teased with a good time along the way!
Following Route 66 is one of the rare times as the Moto Gypsy I am, that I will tell you to have a plan by researching things to do and see along the way that matter to you. There is a ton of info available on-line and cool things to check out both on and off the beaten path. In my experience, while keeping it moving forward with a plan, keep it flexible.
There will be places that jump off the map at you that you'll be interested in stopping, some places you hadn't counted on and some of those places you thought you wanted to stop only to think, "I could have jumped on the interstate through this one." Speaking of a stop that jumped off the map at me I hadn't counted on, I have to give major props to Adrian, Texas…quite the stumbled upon surprise.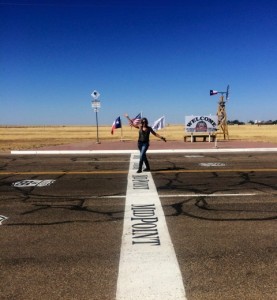 Adrian is located at the half waypoint between Chicago and Los Angeles, literally 1139 miles in the middle of Route 66 and is appropriately known as Midpoint. I stopped with the intension to take a picture at the sign claiming such and ended up taking away one of my many favorite highlights of this trip. Have you ever heard of a lil' Pixar Animation movie called Cars?
Turns out this little jem of a stop was and is the inspiration behind Radiator Springs and its cast of this major blockbuster! I stumbled upon this info by accident as it's not something advertised. I had been on the road for sometime that day and after taking my picture of proof that I'd been there, I decided to go into the retro café there to grab a quick bite and something to drink. A glass bottle of cola and a sandwich later, I decided to opt out of what I later come to find out is their famous pie (honestly doing so in favor of fitting in my jeans a few miles down the road) and get up, full and ready to rally a few more hours down the road before calling it a day.
Having a thing for old renovated gas stations, my eye was caught and I decided I had to pop in next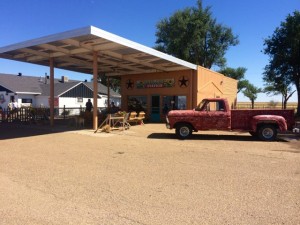 door to check out the 'Sunflower Station,' a renovated boutique shop before saddling up. Greeted warmly at the front door by a woman who seemed bigger than life, the woman who made this place a highlight for me, was Fran aka 'Flo' the inspiration and personality in the movie Cars! It's no secret by now, I love meeting people on the road and hearing their stories, it's a large part of my love affair with riding America and this case was no different. Her infectious personality captivated me with stories of travelers, the people coming in that she greeted with care and the stories of change in the area that had my full attention.
Then, with all the memorabilia of 'Cars' around the shop, it had to be asked, "Why?" Then she hit me with it, more stories, red carpet events, filming and how others in this little 'blink and you'll miss it town' are all famous characters now. The best part is, you'd never know it. Humble as the pie is good (so I hear), once you see the town, meet the café workers and Fran, you'll see parts of the movie in a new light. It made me wonder if the writer traveled Route 66 the same way I was and fell in love with Fran the way I did.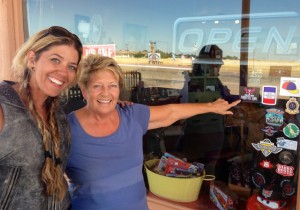 Hours later, after meeting numerous visitors, hearing their stories, checking out a few amazing classic cars cruising by, tagging a Throttle Girl sticker on the front window of the Sunflower Station and having a postcard of Flo signed for my little niece, I was off and rolling with a big smile on my face. Another great story in my adventure logbook and new friends along the way was a double bonus. I look forward to seeing Fran again on my next pass thru, in the meantime, if you're traveling by, please make sure to stop and tell her Throttle Girl sent you. Oh, and don't forget to have a piece of that pie!
Today, Route 66 consists mostly of small towns that clearly paint the picture of the way it once was. These are only a couple stories of highlights I have had along the way. While true story, riding this route doesn't have the grandeur like riding thru Rocky Mountain National Park or Glacier National Park nor the twisty roads we love of the Black Hills or the Sierra Nevada's, it is a must do for any motorcyclist who appreciates a true taste of American history and culture. I recommend this route to anyone looking to write another chapter in their own adventure in life log book, go on now friends, go get your own kicks on Route 66! Throttle Up!!!