Throttle Girl is passionate about her motorcycle, riding and meeting people from all over America. There was a time when Throttle Girl had to dig deep and look at herself, asking what it was she stood for and what was she going to do with the gift she considers her life. Rather than letting it slip away, she dug deep and because of those that were there to help her do so, she rallied and rose above. The diverse chapters of Throttle Girl's life have truly enabled her to be 'Throttle Girl' in all aspects of life.
Today, she thinks of her motorcycle as a metaphor for life. She is truly fueled on passion, having a love affair with her motorcycle and the open road while being driven by purpose, tenaciously committed to helping 'Rally All' and give life a serious kick in the ass. By hosting and/or emceeing rally events, rides and concerts in partnership with Throttle Girl's sponsors; by working together to support Throttle Girl in-house active US Military, US Veteran and American-need based cause campaigns; by taking on specific LDR challenges, appearing on different TV/multimedia platforms; and by donating 10% of her Throttle Girl Rally Wear Merchandise, she finds her mission and purpose fulfilled.
THROTTLE GIRL'S
PHILANTHROPIC MISSION
Throttle Girl is a public figure dedicated to raising money and goodwill for nonprofits by hosting motorcycle events across North America. She rides to inspire collaboration and participation in organizations, clubs and individuals, and to light the fires of awareness and passion wherever she travels.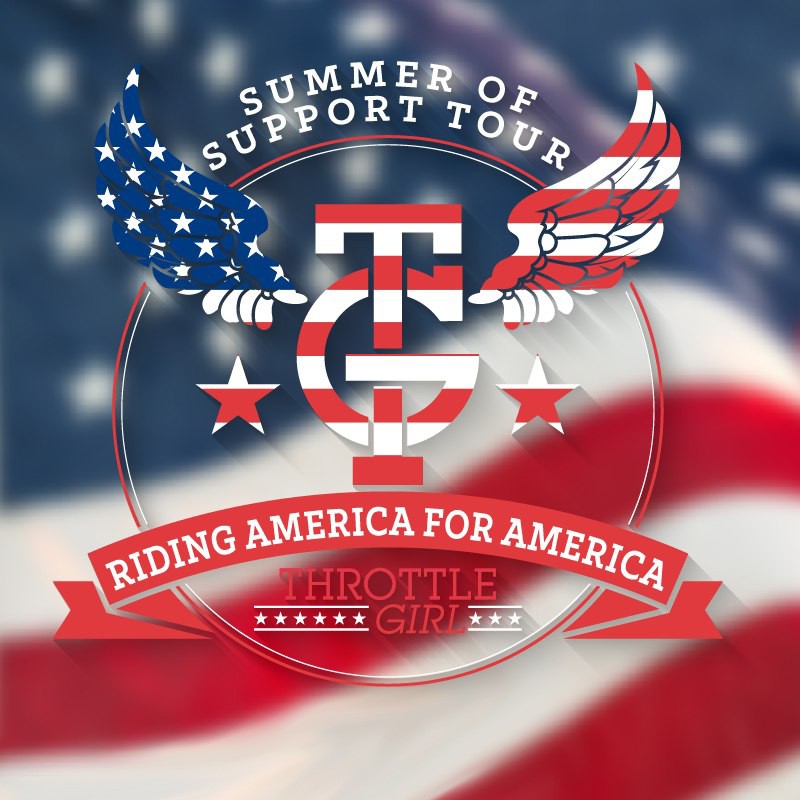 America Rides Strong, Throttle Girl Supports our US Armed Forces & Veterans
Passionate about our men, woman and the families of those who stand on the front line to protect our freedoms as Americans, this is Throttle Girl's primary mission of support. Coming from a proud, courageous, and long line of military veterans, Throttle Girl knows Freedom is not free and certainly doesn't take it for granted.
Throttle Girl identifies and supports causes primarily involved with the scars left behind, both mentally and physically, from serving in the military. These include, but are not limited to depression, suicide, dependency issues, PTSD and physical rehabilitation. The staggering demographic of homeless American Veterans brings TG to her knees. By addressing several of the mental and physical scars left behind, we can help minimize this profound, perhaps even criminal, challenge at large. Believing we must take care of our own, who risk and give all, is not only paramount to Throttle Girl but a privilege and an honor. It is important to Throttle Girl to support and encourage programs that help integrate our military men and women back into the civilian word in a healthy, supportive and proactive way. By supporting programs that assist with teaching trade skills, providing job placement, and encouraging veteran owned business, not only do we keep America strong, but the land of opportunity as well.
Kelly would not be able to be 'Throttle Girl' if it wasn't for these brave souls who maintain the blanket of freedom she's protected by. Their sacrifices in doing what it takes to protect the integrity of freedom, as well as their family's service, is a generous gift and it is not taken lightly. As progressive as times are, every day that Throttle Girl is able to feel the power of her bike, feel the warmth of the sun on her back, or able to turn her handlebars to ride with the wind, she realizes and honors that their are many not near as fortunate. Throttle Girl may not have literally stood on the front line, but she'll do whatever it takes to support those who do, as well as honor the long line of proud military heritage that runs in her blood.
Supporting First Nation Americans, Lakota Active Duty Military, Families & Veterans with One Spirit.
The Indigenous/First Nation people of America as a demographic have served in greater numbers per capita than any other race of ethnic race. In addition to local, national and regional US Military & Veteran specific causes, Throttle Girl supports One Spirit on the Pine Ridge Reservation in South Dakota, an Oglala Lakota Nation-based charity that supports the First Nation People/American Lakota families.
As measures are being taken to preserve the beauty and proud heritage of Lakota culture, they face critical challenges in balancing modernization and striving for creating means of economic development. Pine Ridge Reservation in South Dakota, just outside of Sturgis, and its 60,000 Lakota people living there, make it the second largest impoverished nation in the world behind Haiti; right here, in America. There is great movement amongst the Lakota leaders and healthy role models on the reservation for positive change and as the proper balance of it all is quite challenging and multi-dimensional, it is being fought for with integrity and value. Throttle Girl stands behind the integrity of One Spirit, the only endorsed nonprofit on the reservation that is for the Lakota by the Lakota.
Creating and promoting campaigns assisting active Lakota military, veterans and their families on Pine Ridge, and programs that help secure healthy economic development and provide security for those and their families returning to Pine Ridge is the goal. It is critical to reward and honor these brave families who return to Pine Ridge, helping them harness their strength and  power and assisting with the means to do so, all while encouraging the importance of staying true and honoring the integrity of their culturally rich heritage and beliefs. The role models and leaders of tomorrow that are born from serving our US Armed Forces, returning to their home front, have the unique opportunity to help secure the survival of a healthy and thriving Lakota Nation, paving the way for many bright tomorrows in a multitude of ways.